Kiteboarding
is a good alternative and combination for windsurfing. You will experience a lot of fun while piloting a kite and then riding a board. Our
Happy Kite
school 
www.happy-kite.com
 is 5 minutes away from Vetratoria Windsurfing & SUP centre (Swiss Inn Resort) and located directly in kite lagoon with beautiful waist deep flat water. We offer beginner, intermediate and advanced IKO kite courses for everyone in Russian/English languages. Maybe you are already a kite surfer & would just like to rent & ride our latest year models of
 RRD
 kites/boards or bring your own equipment & just hang out & ride with us? So, you are on the right track! We are offering nice relaxing chill-out zones, WC, warm shower, lockers, beverages and WI-FI connection.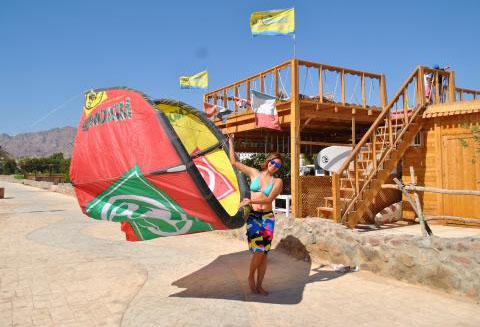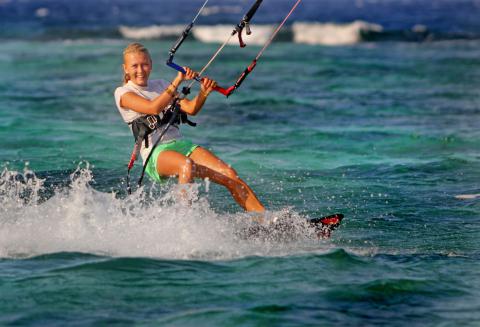 The class price includes a lesson with an IKO instructor, equipment rent, harness, insurance and special radio-helmet that alllows you to hear instructor's advice, wetsuits are also available.  For winter-December-February- we advise you to have a long wetsuit (3-5 mm). 
We also provide the IKO certifications.
Kitesurfing classes
 

9 hour class with instructor

Includes a 9-hour programme plus more practice (riding both sides and making turns) and ideally suits for upgrading your current skills

* Every extra hour costs 50 €

= 500€

6 hour class with instructor

You will learn the basic techniques of kiteboarding, piloting and safety systems. Theory includes "wind window", set up and launching a kite. Practice includes safe piloting, body dragging and water start.

*6 hours is an average time to start from the scratch and being able to ride in both sides, BUT the results comes individually and depends on your skills and desire.

= 400€

3 hour class with instructor

Ideally for the first steps in kiteboarding (theory+some practice) and refreshing your prior skills.

 

Usually for beginners a 3 hour class is not enough to complete the course. But you will inderstand that life is boring without kitesurfing:)

 

* You can take a 3 hour class to discover kitesurfing or re-fresh/upgrade your skills

= 200€

Individual 1 hour class with instructor

You can use a 1 hour class to discover kiteboarding or to re-fresh your skills.

= 70€

Rent RRD equipment

| | |
| --- | --- |
| Rent | |
| 1 hour = 60€ |     |
| 1 day = 70€ |     |
| 2 days = 120€ |     |
| 3 days = 180€ |     |
| 4 days = 220€ |     |
| 1 week = 330€ |     |
| 10 days = 400€ |     |

To rent a board only - 50% discount
To change kite size - without extra charge
To rent one set for 2 people- 20% extra cost
Harness/wetsuit rent - 5 € per day

 

Storage

1 set of equipment:

10 euro/day

45 euro/week

= 10€